Each week, we will highlight local animals who are currently available at local shelters and can't wait to become your best friend. Sponsored by Mountainaire Animal Clinic.
This week's four-legged friends are at Green River Animal Control. Stop by and meet them today!
---
Si
Hi there, I'm Si! I'm a 4-year-old male Pit Bull/Australian Shepherd mix. I'm a very sweet well-mannered boy who takes verbal commands like a pro. I'm neutered, micro-chipped, and house-trained so I'm pretty much ready to move in right now. My previous owner lost their home so I had to be surrendered. I love people, kids included, and I get along great with other dogs. I'm not the best with smaller animals and I don't know how I am with cats yet, but I'm being cat tested soon– results pending. I just want to be your best friend! And look at my adorable face, how can you resist me? P.S. I'm the office favorite here at Green River Animal Control.
---
Holly
Advertisement - Story continues below...
Hi! I'm Holly, a 5-month-old female terrier mix. I came in as a stray after being found in the street, and I was very skinny and starving. I've had a tough start to life, so I'm pretty shy and get scared easily. I need someone who is patient and kind. I'm cautious around people at first, but once I realize there's no reason to feel afraid I warm up easily. I'm still very young so I'm pretty adaptable. Therefore, homes with kids and other pets should be just fine. I'm a super sweet girl who just needs a loving home. If you like hugs, you're in luck. I happen to give the best ones!
---
Kris Kringle
Hello! I'm Kris Kringle, a two-year-old male kitty. It's almost Christmas time and everyone needs a little bit of Kris Kringle in their life, am I right? I'm very friendly and every person I meet becomes my best friend at first pet. I've never met a stranger! I guess you could say I spread holiday cheer all year long. I'm neutered and house-trained, though my vaccination record is unknown, as I came in as a stray. My favorite things include people of all ages, attention, and other cats. Come and meet me! I'm ready to give some Christmas snuggles.
---
Adorable & Adoptable Pets of the Week is made possible by our great sponsors at Mountainaire Animal Clinic, your go-to place for all of your pet health, care and accessory needs.
*Did our post help you find your best friend?
Let the Mountainaire staff know and receive a FREE office visit with your adoption!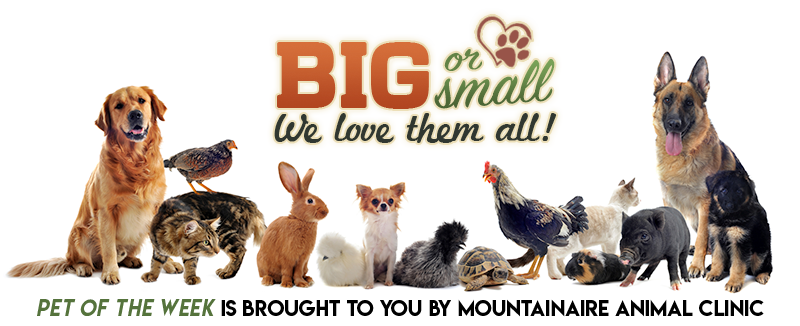 ---
Paid Legal Notice - This post was paid for by the business or individual represented above. We reserve the right to remove any comments. If you'd like post a legal notice similar to this, get in touch at 307-922-0700 or send us a message.