GREEN RIVER– Green River High School student-athlete Anthony Mitchell signed his letter of intent Monday afternoon to play football at Minot State University in Minot, North Dakota.
Anthony had an offer at Chadron State as well as a walk-on offer to the University of Idaho, but he felt Minot State University, a Division 2 school, was the best option for him.
"It seemed like their program really needed me to commit," Anthony said, adding that the school is "comparable to a lot of Division 1 schools."
Advertisement - Story continues below...
---
Green River High School sports coverage is brought to you by these amazing sponsors:
---
Minot State University showed a strong interest in Anthony and his dad, Chris Mitchell, really appreciated.
"They called him every Friday to check and see how his game went and how the season was going," Chris said. "If it wasn't Friday night, it was Saturday morning."
After Anthony visited the campus in early December, the Minot State University head football coach drove over 12 hours to visit Anthony at home in Green River a few weeks later.
"He made the 12-hour drive to sit in the house for one hour to talk," Chris said.
A Valuable Education
Chris said on the learning side, the coaches have high expectations for their athletes, which also attracted Anthony to the school.
"The coaches expect them [the athletes] to check in to two hours of study hall every day," Chris said.
Anthony said it will be great to be able to continue playing the game, but he also values the opportunities football will bring him in terms of an affordable education.
"I think the most important things is to be coming out debt free, hopefully. That's the biggest thing," Anthony said.
As of now, Anthony plans to study biology.
A Childhood Dream Comes to Fruition
Anthony started playing football in fourth grade when he started pee wee football, in which his dad was his coach.
"He was my touchdown machine," Chris said. "I always joke with him that he wore my shoulder out because it was always, 'throw me the ball, dad, throw me the ball'. Whether it was in the house or out of the house, he always wanted to play."
Chris said he always knew Anthony would play football at the collegiate level, but "it's cool to see it come to be."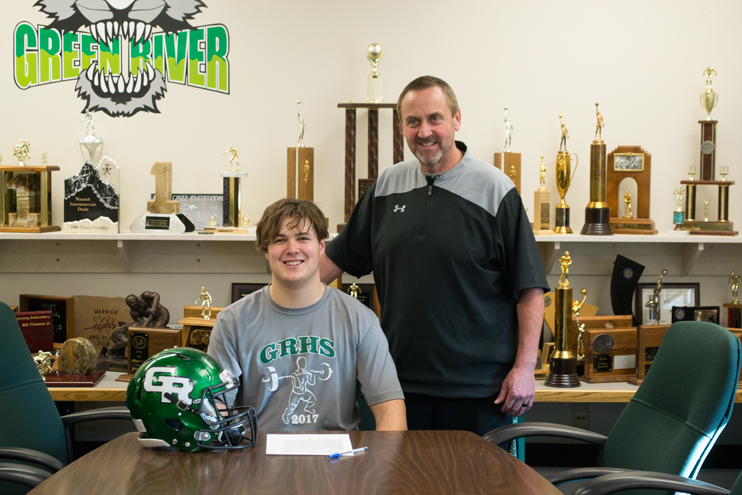 Bringing Leadership to Minot State University
Green River High School head football coach, Marty Wrage, said Anthony is a hard worker and was a great leader for the Wolves football team.
"He's a leader not only in games but in practice," Wrage said. "He's always one that helps the younger kids in practice too."
Anthony is bound to bring his work ethic and his leadership to Minot State University, but what does he hope to bring to their football program?
"Intensity, integrity, and loyalty," he said.