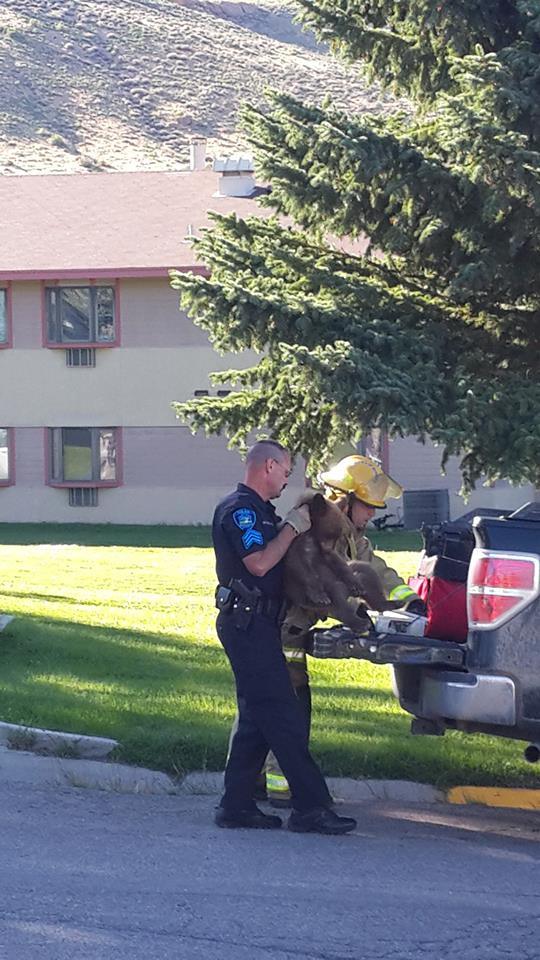 Watch a video of the bear rescue.
UPDATE: 1:30 p.m. According to the GRPD daily press release. 'Officers were dispatched to the area of Indian Hills Park near the Castle Rock Convalescent Center, in reference to a report of a bear cub in the area. Green River Police Department, Green River Fire Department and Wyoming Game and Fish responded to the area. The bear climbed into a tree, a fire truck was used to attempt to get the cub. The cub fell from the tree and was turned over to Wyoming Game and Fish.'
GREEN RIVER — On Sunday afternoon a black bear cub was spotted in Green River on Indian Hills Drive behind Castle Rock Convalescent Center. The five-to-six month old cub was captured and is currently being housed by Game and Fish while they work on a solution. "We literally have no idea why this bear is here or where it came from." Green River Wildlife Supervisor Steve DeCecco said.
Advertisement - Story continues below...
DeCocco said that the bear's young age makes simply returning the animal to more natural habitat an impossibility. DeCocco said that the cub hasn't had enough time to learn survival skills, "It wouldn't know how to den and is too small to protect itself from other predators." DeCocco said that the cub is around 30 pounds in weight and is roughly the size of a medium dog. Staff will continue looking for a solution.
Do you have a photo of this bear encounter? Share it with us and have it published.