Welcome to our series, #WHYoming.
We are highlighting people from around our communities and asking them a few questions. We want to learn a little about them and see why they chose this great state to raise their families, start their businesses, or simply to ask — Why Wyoming?
For this week's #WHYoming, I had a chance to sit down with Brent Rhodes, a University of Wyoming law student. Brent is currently the student director of UW's Civil Legal Services Clinic. He is in his third and final year of law school, and will be taking the BAR in July. After taking the exam, he will be moving to Yellowstone where he has accepted a federal clerkship with Judge Carman.
Brent was recently part of a student legal team that made history by being the first team to win a jury trial in any of the UW Law School's eight clinics. Rhodes was lead counsel on the team that successfully prevented the termination of a man's rights to his eight-year-old daughter.
Originally from Utah, Brent moved to Rock Springs in 2006. Currently, he lives in Laramie as he is finishing up his education. He loves Wyoming and can't imagine living in any other state. "My list of reasons to live here are endless," he said.
---
.
Brent, why did you decide to go to law school?
Great question. I am not sure I have an answer. My undergraduate degree is in Wildlife Biology. Interestingly enough, I was flying around in airplanes chasing antelope and elk, along with watching birds in wind farms, for a year before going to law school.
I suppose I realized two things: 1) I love my wife and want to be a family man. A biologist's life just isn't what I imagined for me and my future family, and 2) the law is everything. Even in the wildlife world, I can do significantly more work, and much more meaningful work, for Wyoming's wildlife with a law degree.
.
What do you do as the student director of UW's Civil Legal Services Clinic?
As student director I oversee most of the day to day activities of the clinic. It is my job to make sure all of the students in the clinic are properly handling their cases, making the right arguments, showing up for scheduled hours, and other typical management stuff. I attend every court hearing that any of the students have and help them write, file, and argue just about everything they produce.
Additionally, as director I have a lot of freedom to take on just about any case I'd like. With said freedom, I have made it a priority to get into court as much as possible.
.
You were recently part of a student legal team that made history at UW. Can you tell me about this experience and how being lead counsel on the team felt?
It was a truly wonderful experience. Judge Sharpe, a district court judge in Cheyenne, called our clinic and asked us if we would represent a father who found himself in the middle of a family dispute. The mother in the case was trying to terminate my client's parental rights to his eight year old daughter. I talked it over with my student intern (a second year law student named Jen Dean) and my faculty director, and both were supportive of me taking the case. Jury trials are intense. Simply intense. I knew there was no way I could tackle my first one alone, so Jen and my faculty director helped out a lot.
Most of the trial preparation took place over Christmas break, which was difficult. We managed to fight through it though, and ultimately at the end of our two day trial, the jury found for my client. We saved his parental rights and ensured that he would have the ability to be the father he wants to be. I suppose it is "historical" because my clinic has never won a jury trial. The Civil Legal Services Clinic is the oldest clinic associated with the UW Law School (50 years old). Considering our law school is only 100 years old, I suppose it is a significant feat to be the only law student with a jury trial win for the clinics.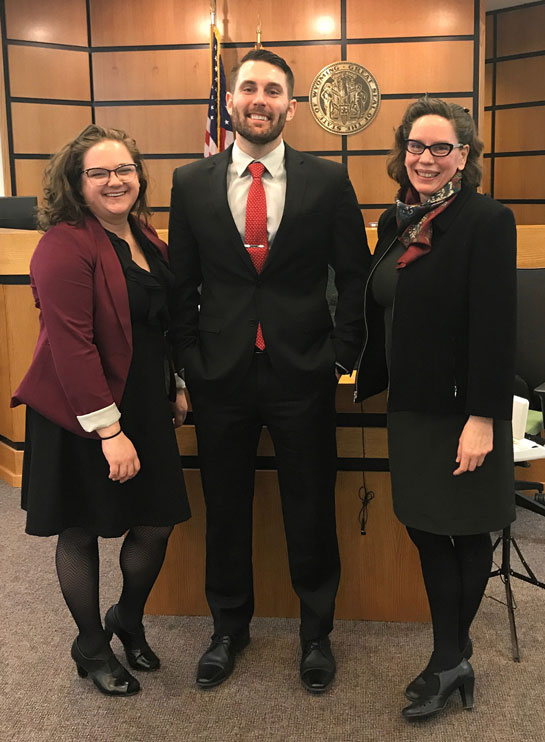 .
What are your career goals?
I want to be a civil litigator. That's about all I know. I'd like to focus on workers' compensation, personal injury, and family law. As a Wyomingite, I'd love to settle down in one of our small communities and open my own firm, but that is quite a way down the road.
.
Do you currently live in Rock Springs?
In spirit yes, I still live in Rock Springs. Physically, though, I currently live in Laramie, Wyoming. I was born and spent about half of my life in central Utah, specifically Wellington, Utah. I moved to Rock Springs in 2006 when my father took a job at Bridger Coal. Since then, Rock Springs has been home.
.
What is something unique about you?
I am painfully average, so forgive me for not having much to brag about. Honestly, the most unique thing about myself is who my friends and family are. I am truly grateful for the people in my life. I have an outrageously large extended family, so large holidays and get-togethers have always been normal for me. Between my family, my in-laws, and my friends, I am not sure a man could possibly ask for more.
.
What are your some of your hobbies?
My wife would prefer you ask "what isn't one of my hobbies". I pride myself on being a man that will try anything. To name a few I go to the gym, ski, hunt, fish, golf, drink cold beer with friends, binge episodes of The Office, riding literally anything with motor, and sports. It seems every weekend I am doing something.
.
If you could give one brief piece of advice, what would it be?
The key to anything in life is discipline. Unfortunately, you will never be the smartest, richest, or best looking person in the world. Yet somehow, we consider intelligence, wealth, and genetic advantages to be the keys to success. That is nonsense. Put your nose to the grindstone, be the most disciplined person you can be, and great things will happen.
.
Where is your favorite place to hang out in Sweetwater County?
The Flaming Gorge might be my most favorite place on earth. During my wildlife days I did a research project concerning Burbot in the Flaming Gorge. Since then, I've been hooked. Be it zero degrees sitting on ice or seventy degrees sitting on a boat, I am in heaven.
Would you rather walk, ride a bike, take a horse, or drive a car?
Drive a car, no doubt. Specifically make it a 1972 Chevelle with a big block. Why? Because it is a big block Chevelle…
.
What would you sing at karaoke night?
Big Butts by Sir-Mix-A-Lot. Nothing gets a karaoke night going like Sir-Mix-A-Lot! My wife has heard me scream the lyrics and dance around to Sir-Mix-A-Lot many times.
.
How would your friends describe you?
My friends, and probably most people I know, would describe me as calm and easygoing.
.
What is one of your proudest accomplishments?
Surviving law school has definitely been my proudest accomplishment up to this point in my life. The first year of law school is like nothing else in the academic world. There were times during that first year when I questioned if I really wanted to put myself through it. Today, though, it makes me proud knowing I've survived.
.
Who would you want to play you in a movie about your life?
Matthew McConnaughey for countless reasons! He is the Lincoln Lawyer, what lawyer wouldn't like to be the Lincoln Lawyer? Alright alright alright.
.
Why do you continue to live in Wyoming?
I can't see myself living anywhere else at this point. My wife was born and raised here, I've grown into the man I am while here, and Wyoming has been very good to me. My list of reasons to live here are endless. I love Wyoming's smaller communities and mountains, I have formed great relationships with people throughout the state, and it is a great place to raise a family. Also, the University of Wyoming makes this state like no other.
.