Welcome to our series, #WHYoming, brought to you in partnership by Kaumo Law.
We are highlighting people from around our communities and asking them a few questions. We want to learn a little about them and see why they chose this great state to raise their families, start their businesses, or simply to ask — Why Wyoming?
For this week's #WHYoming, I had a chance to sit down with Colleen Seiloff, math teacher at Green River High School and the GRHS boys and girls head swim coach.
Colleen has been in Green River since 1991, and she's been teaching and coaching here for 25 years. As a teacher, Colleen is dedicated to her students. I would know, as she was my math teacher my senior year. 
Throughout her years as a swim coach at GRHS, she has received multiple Conference coach of the year awards, however, she is quick to give that credit to her fellow coaches and the swimmers and divers.
"That award really goes to all my coaching staff and the athletes. I have had the honor of coaching with some great people," she said. The athletes who swim for Colleen clearly love and respect her, and she shares that love and respect.
Colleen is also a dedicated wife, mother, and grandmother who cherishes her family above all else. 
---
This community series is brought to you by:
---
.
Colleen, how long have you been teaching, and why do you choose to teach?
I have been teaching for twenty five years, all of them in Green River.  I became a teacher because it just seemed to be what I was meant to do. Every job I have ever had has involved some kind of teaching. When I was in high school,  I taught swimming lessons in Rawlins and coached for our club program. I liked being around kids and helping them so I thought I should become a teacher and coach.  
.
How long have you been coaching and what do you enjoy about it?
I started coaching when I was 16. I helped coach a club program. I have coached in Green River for twenty five years. I coach the varsity Girls and Boys swimming team. I competed when I was in high school and loved the fact that swimming was both a team and an individual sport. I get more excited for my athletes now than I did when I was swimming.
I like the fact that we can measure the success of each athlete differently. You don't have to be the best athlete to be successful in swimming and it's a skill they will be able to do the rest of their lives. I also get to hang out with some really amazing kids that grow up to be amazing adults. I cherish the friendships I have with past athletes.
.
How did you end up in Green River?
We moved to Green River in 1991 because I wanted to go to school at Western. My husband Tom transferred so I could get my teaching degree. 
.
What is something unique about you?
Not sure that there is anything unique about me.
.
What are some of your hobbies?
My family would say I don't have time for a hobby because I coach, so I guess coaching is my hobby.
.
What do you appreciate most about our community?
It amazes me how supportive Green River is. The people here are always willing to help when someone is in need. It is a very family-oriented community. We have a great group of kids too. I feel lucky to teach and coach here.
.
If you could give one brief piece of advice, what would it be?
My advice would be to not be afraid to try. Failing is just part of the process and you can't be successful without getting out there and trying.   
.
Where is your favorite place to hang out in Sweetwater County?
I like to go camping and boating at the Gorge with my family and friends. I also like to go kayaking on the river with my grandson Gunner.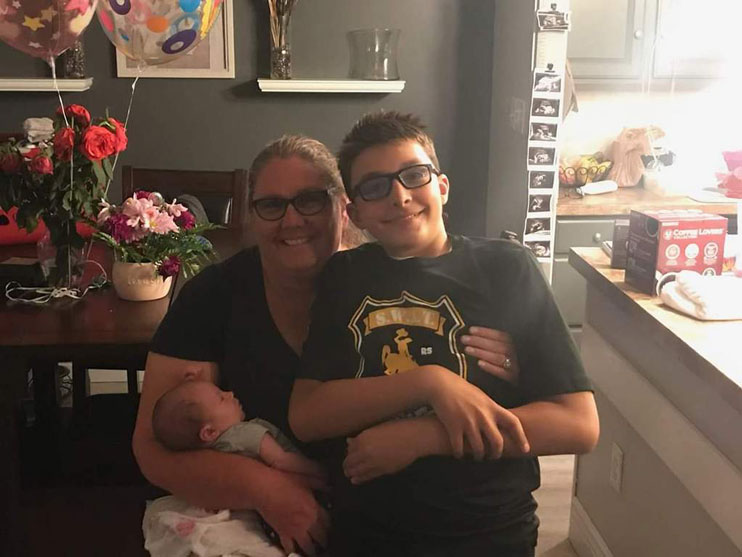 .
Would you rather walk, ride a bike, take a horse, or drive a car?
I like to take a car because it reminds me of when I was younger. I always went on car rides with my parents and sister.
.
What would you sing at karaoke night?
Any song from the 80s. My husband loves 80s music so we listen to it all the time.
.
How would your friends describe you?
I hope they would say fun, caring, honest, and someone they can count on.
.
What is one of your proudest accomplishments?
My biggest accomplishment would be my family. Being a mom to two great boys, Casey and Zach, a wife to Tom, and a grandma to Gunner and Sawyer.
.
Who would you want to play you in a movie about your life?
Melissa McCarthy. She is funny, not afraid to be a little crazy, and is comfortable in her own skin.
.
Why do you continue to live in Wyoming?
Wyoming has everything I like. The weather is great.  The scenery is amazing. There is not too many people, and the people who do live here are pretty great. I get to teach and coach with some pretty cool people. The most important reason though is that my grandchildren live here.  
.