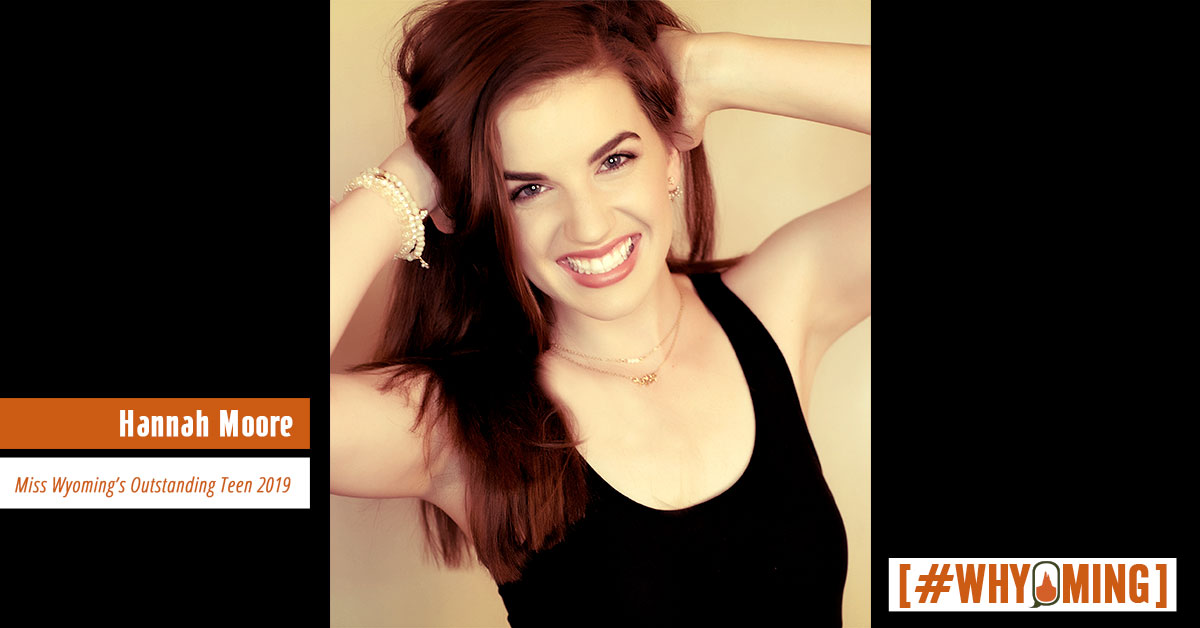 Welcome to our series, #WHYoming, brought to you in partnership by Kaumo Law.
We are highlighting people from around our communities and asking them a few questions. We want to learn a little about them and see why they chose this great state to raise their families, start their businesses, or simply to ask — Why Wyoming?
For this week's #WHYoming, I had a chance to sit down with Hannah Moore, Miss Wyoming's Outstanding Teen 2019. Since Hannah's crowning, she has been working on her Impact Statement, which is #YouREnough. She wants to encourage others to be themselves.
"You will not be happy changing yourself to be what the world thinks you should be," Hannah said.
Originally from California, Hannah moved to Rock Springs in 2012 and has made Wyoming her home. Now, she is a senior at Black Butte High School in Rock Springs. Hannah is a self-proclaimed "small town girl" and she loves this community that has accepted her with open arms.
---
This community series is brought to you by:
---
.
Hannah, how did you get involved in pageants?
I have actually never done a pageant before this! This past summer I was visiting friends and family in California.  We had a few days left of vacation when I received the phone call from my state director.  She offered me the opportunity of a lifetime to participate in MWYOTeen.  I asked her if I could pray about it and get back to her.
For the next two days I talked it over with my parents.  My Dad asked me, win or lose, what did I want to gain from this experience.  I said more confidence in myself and friends.  With my parent's blessings, I called back and agreed to do the pageant.  When I got home, I had less than two weeks to prepare with no pageantry background!
.
What has been your favorite part about of being crowned Miss Wyoming's Outstanding Teen?
I have a couple of favorite parts. Three weeks after I was crowned I went to participate in the MAOTeen pageant in Orlando, Florida. I had so much fun there and I grew a lot as well. I am proud to have such amazing friends in all 50 states and DC! 
My second favorite part is being able to inspire the girls and women in my community. I love to see the smiles on their faces when they meet me!
.
What is your Impact Statement and what are you doing to work on it?
My Impact Statement is #YouREnough.  I want encourage everyone to be themselves.  Being yourself is the best way to be. You will not be happy changing yourself to be what the world thinks you should be. I am currently working on my story and putting this together with activities. I hope to be speaking in the schools soon and touching the lives of others through my story.
.
Where do you go to school?
I attend Black Butte High School for my general education classes, Rock Springs High School for band, and Western Wyoming Community College for a few more classes.
I have been a member of the RSHS Tiger Marching band for all four years of high school. And until this year, I have been in competitive dance for 7 years. I am solo dancing this year.
.
How did you end up in Rock Springs?
I am originally from California and I moved here the summer of 2012. My Dad applied to 97 different teaching jobs around the state and Rock Springs was the only one that responded! Next thing I knew, we were packing up and moving here. I was 11.
.
What is something unique about you?
I was born in Visalia, California. On my dad's side, I am a fifth generation born Visalian! My Great, Great, Great Grandfather was one of the first settlers of Visalia.  His son, my great grandfather, my grandfather, Dad and I were all born there.
.
What are some of your hobbies?
Some of my hobbies include dance, music, art, and riding my horse.  I've been dancing since I was two-years-old.  I love lyrical and contemporary dance.
.
What do you appreciate most about our community?
I appreciate our Wyoming "cowboys"!  Everyone here has been so kind and helpful toward each other, even in the winter.  I'll be driving around seeing others shoveling drive ways for their neighbors, helping cars that stall out, and bringing groceries inside.  It warms my heart knowing that people still care and want to help.
.
If you could give one brief piece of advice, what would it be?
If I could give one piece of advice it would be to treat others how you would want to be treated.  You would not want someone to tell you who to be, or what to do or look like. Be kind and be you because You R Enough!
.
Where is your favorite place to hang out in Sweetwater County?
My favorite place to hang out in Sweetwater County is the Green River in Green River.  My family and I love to go floating down the river. It is a peaceful float! We always get to see many different wildlife like deer, muskrats, birds, fish, bunnies, river otters, snakes, and many more.
.
Would you rather walk, ride a bike, take a horse, or drive a car?
If it is nice outside, I love to ride my horse. There is this a calm, peacefulness when you are up on a horse that rejuvenates you and makes you feel happy. However, if it is winter, I would definitely drive because here in Wyoming it gets freezing cold and I want to be warm!
.
What would you sing at karaoke night?
I would probably sing Jesus Take the Wheel by Carrie Underwood. It is one of my favorite songs. Jesus is in control of my life and I want to remember who is always there helping me get through everything.
.
How would your friends describe you?
Well, I actually asked a
friend to describe me for this article! This is what he said.
"I would first tell people that you are a Christian and believe in God. You are able to fill your schedule with a million things and still get it all done. Even if you had one second left, you still manage to get it all done and you never complain about it! You are nice to those who are nice to you! And are only short with them when they are short with you or you feel uncomfortable around them. I would say you have a good amount of friends so that means you are likeable!"
.
What is one of your proudest accomplishments?
I am proud of everything that I work hard at. I've lettered in band twice. Won awards for my dancing, and of course, when I wear this crown I don't take it lightly. It is my job to represent this great state of Wyoming and I take it seriously but have a lot of fun with it too!
.
Who would you want to play you in a movie about your life?
When I was first crowned, I was told to watch Princess Diaries. This is one of my favorite movies. I would choose Anne Hathaway. I get tons of people commenting that we look a like.
.
Why do you continue to live in Wyoming?
Being originally from California I can tell you right now that I am a small town girl. I love nature right outside my door, seeing deer in my yard, and having a white Christmas. I have grown to really love Wyoming and the small community that I live in.
.