[vc_row][vc_column][vc_column_text]
Welcome to our series, #WHYoming, brought to you in partnership by Kaumo Law.
We are highlighting people from around our communities and asking them a few questions. We want to learn a little about them and see why they chose this great state to raise their families, start their businesses, or simply to ask — Why Wyoming?
For this week's #WHYoming, I had a chance to sit down with Jennifer Edelmayer, a yoga instructor at Soul Studio, an essential oils businesswoman, and the leader of the Wild Sage Garden. Jennifer has made it her mission to create a more conscious lifestyle for herself, her family, and the community.
Advertisement - Story continues below...
Anyone who comes across Jennifer feels accepted, appreciated, and understood. Born and raised in Green River, she has planted her seeds here, raising her own children in the same community she grew up in. It is important for Jennifer to have her tribe, and she has found just that right here in her hometown.
---
This community series is brought to you by:
---
.[/vc_column_text][vc_column_text]
Jennifer, how did you get involved in the Wild Sage Garden?
I was already on my own path of learning to homestead and having a greener lifestyle before I got involved with the community garden. In that mission, I was pulled into yoga and got my 200 hours and started teaching yoga.
One of my best friends now, Stacey Dolinar, was on the front line of the Wild Sage Market board from the beginning. She was coming to my BUTI classes and I think she was drawn towards my energy or something, and someone had mentioned to her that I have a pretty impressive backyard garden.
From there, they invited me to a market board meeting and they asked if I wanted to start a garden for them. I got really involved in the board and the garden kind of got pushed back because there were only so many of us to do everything.
So, finally coming into this spring, I took this and actually made some of this happen. I gathered up some willing partners, friends, master gardeners, and I took the master gardener course. So the garden has been in conversation for almost two years, but I've been trying to find the man power and not take from the market's mission, because the market is massively important and the reason the garden exists.
The market and garden work together to show why local food networking is important. I'm looking at it as a food producer, or like a farmer type mentality, whereas the market can bring in the economic side and the consumer.
.[/vc_column_text][vc_column_text]
What else do you do outside of the Community Garden?
Originally, construction and property management. My husband and I have been into that for 10 to 12 years. And then about three years ago, I was really wanting to be a part of something more for my spiritual growth. So I started hanging out at the soul studio when they were at this little tiny building, and I noticed they were moving to a new location. I wanted to be a part of it so bad, and I didn't know how, so I just started helping them move. I did all the trim work and did a bunch of handy man work for them as they moved into the new space.
And then they had this little corner left over, and I have had an essential oil business for about 6 years. So I asked if I could put my essential oils in that corner. So I set that up, and one of the yoga instructors told me I really needed to get certified in yoga, and I was like, 'no I'm a jock, I throw weights.' But I went to Kona, Hawaii, and did a 200 hour yoga training over the winter of 2017, and it was magical. It totally changed the trajectory for me on some levels. So I started teaching yoga there. I'm doing the oily yoga lady kind of thing.
Some of these friends who work at soul studio as energy workers or yoga teachers were also on the market board, so it was like two systems, same vision. So that worked out very well. So I had a tribe, started teaching more yoga, and gained more outlets to share alternative plant-based medicine. That grew into another 200 hour YTT (Yoga Teacher Training) that I'm doing and I just did another five certifications in Scottsdale, Arizona. Now I can teach ten different styles of yoga and HIIT.
.[/vc_column_text][vc_column_text]
How did you end up in Green River?
I was born and raised here but I went to Flagstaff, Arizona for college. Right before I had my oldest, the pressure of being far from family with a brand new little baby really made me want to be home.
Then my high school sweetheart came full circle, we got married, and he's a lifer. He's the hunting-est, fishing-est, Wyoming-est roots man ever. I had to really decide to make home a place I wanted to be and stop trying to leave, because that wasn't really a good idea either. I wanted a tribe, I wanted my children to be raised by a village and I wanted it to be a greener village, so I just started sprinkling the seeds and watering them here.
.[/vc_column_text][vc_column_text]
So, you and your husband were high school sweethearts?
Well, I had a massive crush on him in high school. He taught me how to snowboard, all that fun stuff. But then I went to college because I was determined to go to college. I was going to be a professional athlete, I went for Division I diving.
But I came home, a single mom, and he was just there. It was just instant. We moved in together a week later, got married a year later, and now we're still married 12 years later.
I was only supposed to come back for a minute to make some money and then leave. I was going to go to California, but I found him.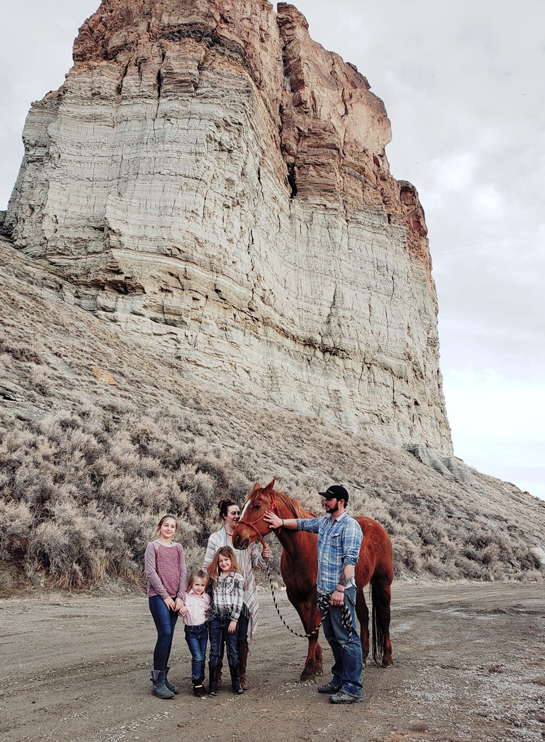 .[/vc_column_text][vc_column_text]
What is something unique about you?
I'm just kind of a quirky, deaf (in her left ear), left-handed Leo, and just kind of an out of the box thinker. I think that's just being raised most of my childhood on the back of a horse in the mountains with real things like bears and wolves and getting hurt. So I never really learned to fear people.
But then, on a more serious level, at 27 I was dying of heart failure. I had a 16 millimeter hole in my heart. I had to have emergency heart surgery. My heart device was made in Switzerland and over-nighted. It was that much of an emergency, they didn't know how I was walking and alive.
I wasn't able to cognitively function. I had a misdiagnosed heart defect, so at six I should have been having heart surgery but instead they put me on Ritalin said I have ADD. So it suppressed my ability to function. I still graduated high school with a B average and a Division I full-ride scholarship. I made it that far, but it was very challenging. But as soon as I landed in college, the strain on my heart got worse and my cognitive ability got lower. I was suppressed for some time.
I was able to get through school and be an athlete just because, mind over matter. Clinically I had zero symptoms of heart problems, besides my blood oxygen being low. If I had been told at 6 or 7 that I might be lethargic, then that's what I would have become. But I was told I was a warrior badass Indian princess so that's what I was.
To have a couple of children, going through the scare of having heart failure, and to come out of it and have the ability and that awakening, all my priorities shifted from that event and waking up out of that haze.
So I was like one, I didn't die, that's great. Two, I probably have a purpose. And three, my priorities are probably way different than someone else at 27. You know, I wasn't worried about accumulating stuff, I wanted knowledge and a vehicle to share that. So oils, yoga, gardening, that's kind of how it all filled out.
I'm actually teaching yoga at rehab right now. So I'm at Southwest Counseling Services doing a pilot program to incorporate yoga into rehabilitation for trauma and substance abuse. That's been really special because I've been put on opioids 24 times, and to get off of them every time is a big accomplishment.
.[/vc_column_text][/vc_column][vc_column][/vc_column][vc_column][/vc_column][/vc_row][vc_row][vc_column][vc_column_text]
What are some of your hobbies?
Movement, music, food, fishing, camping, traveling. And one of my favorite things is to just be a stranger somewhere. Just be absolutely anonymous and just meander through a crowd or a restaurant or an event and I know no one and no one knows me. I just really enjoy that.
.[/vc_column_text][vc_column_text]
What do you appreciate most about our community?
I love the level of involvement that each group shows up with. Whatever group it is, I love the level of intensity and consistency that the community has. And I think it's a great place to raise a family.
.[/vc_column_text][vc_column_text]
If you could give one brief piece of advice, what would it be?
Stop assuming so much and just think from your heart. Ask for what you want and believe that you deserve it. Also, I view us all as a cell in the body of humanity, so how are we being a good human cell? I teach that to my children, so it's probably one of my favorite pieces of advice.
.[/vc_column_text][vc_column_text]
Where is your favorite place to hang out in Sweetwater County?
I love the water so the river, the lake. All the water. Also, the desert because we do a lot of rock hounding. Anywhere around a campfire with music. At my mom's or at the yoga studio. Those are my refuges.
[/vc_column_text][/vc_column][/vc_row][vc_row][vc_column][vc_column_text].
Would you rather walk, ride a bike, take a horse, or drive a car?
Off road rally ready 4-wheel drive. Probably a sick Tundra with lifted tires. I do love horses and I rode most of my life, but definitely a jacked-up rally ready off road truck. I like to tear up sage brush, and it smells so good.
.[/vc_column_text][vc_column_text]
What would you sing at karaoke night?
Dust on the Bottle by David Lee Murphy. Because everything does get better with time and you can't really tell what's on the inside. And everyone loves that song. That way everyone else would sing with me and I wouldn't be the only one singing.
.[/vc_column_text][vc_column_text]
How would your friends describe you?
Fun, fierce, a warrior of light and love. And, I have a tendency to pull people out of their shells.
.[/vc_column_text][vc_column_text]
What is one of your proudest accomplishments?
My children. And my hopeful ripple effect on raising a higher level of consciousness in the next generation. By raising conscious, mindful, aware children, we can create a higher level of awareness in our society.
.[/vc_column_text][vc_column_text]
Who would you want to play you in a movie about your life?
I thought Melissa McCarthy, just super ridiculously silly and just all love. But my friends thought Drew Barrymore because she's funny and cute and we have the same little nose. So maybe them in a show together. My alter ego would be Drew but really I'm just really random and silly like Melissa. People that know me really well know I'm the first one to be ok with being silly. I prefer it.
.[/vc_column_text][vc_column_text]
Why do you choose to continue living in Wyoming?
I believe that in Wyoming, we all have a little bit more grit and I feel like I'm built for all seasons here. And I hope I can act as a leader in bringing our state a little closer to some conscious living and inspiring the next generation to take Wyoming to where it could be with producing more and becoming more stable. I also can't get enough of the wide-open space. I used to take my horse right out into the desert here and ride for four to six hours in a big loop and come home at dark and not see another soul. I think Wyoming teaches us to be a little more aware of self because there is so much space.
.[/vc_column_text][/vc_column][/vc_row][vc_row][vc_column][vc_column_text].
[/vc_column_text][vc_separator]
[/vc_column][/vc_row][vc_row][vc_column][/vc_column][/vc_row][vc_row][vc_column][vc_media_grid grid_id="vc_gid:1559424866882-63134bb4-6303-1″][/vc_column][/vc_row][vc_row][vc_column][vc_media_grid grid_id="vc_gid:1559424889272-401e163c-3e4d-0″][/vc_column][/vc_row]