Each week, we will highlight local animals who are currently available at local shelters and can't wait to become your best friend. Sponsored by Mountainaire Animal Clinic.
This week's four-legged friends are at Green River Animal Control. Stop by and meet them today!
---
SHADOW
Hi! I'm Shadow, a two-year-old intact male pupper. I'm energetic and friendly, and I love to make new people friends. I just love people! Do you have kids? I hope so, because I love them too, and I've been told I'm pretty great with them. I love to play and be pet, and I'm super sweet. I tend to be a bit picky with other dogs, so I would prefer to be an only-doggy.
---
RUSTY
Advertisement - Story continues below...
Hey, Rusty here! I'm an eight-year-old female dog who is looking for a new home as my dad has passed away. I'm a sweet girl who tends to get very attached to my people. I'm great with kids as well and I love to play– especially frisbee! I listen very well and know all of my basic commands. I love to be indoors, and I'm very well behaved inside as well. Are you my new person? Come on in and meet me, I can already tell we'll get along great!
---
CINNAMON
Hello, I'm Cinnamon. I'm a young adult female Siamese cat. I'm super sweet and very pretty. My markings are very unique, so I'm told. I recently had kittens, so obviously, I am not spayed. I'm a friendly kitty who enjoys being petted. I also love to play, especially with a laser pointer! I'm the perfect mix of energetic and lazy, and I can't wait to meet you and my forever home!
I also have a lot of pals in here who are in search of their forever homes, so tell your friends to come and check them all out! They're all sweet and cuddly and are sure to be great companions.
---
Adorable & Adoptable Pets of the Week is made possible by our great sponsors at Mountainaire Animal Clinic, your go-to place for all of your pet health, care and accessory needs.
*Did our post help you find your best friend?
Let the Mountainaire staff know and receive a FREE office visit with your adoption!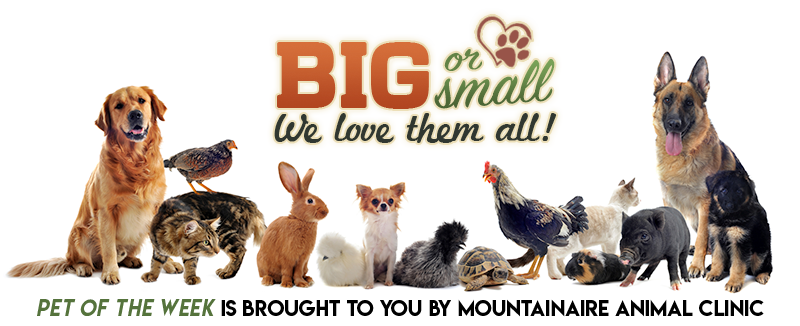 ---
Paid Legal Notice - This post was paid for by the business or individual represented above. We reserve the right to remove any comments. If you'd like post a legal notice similar to this, get in touch at 307-922-0700 or send us a message.