The Pinedale Fine Arts Council (PFAC) is proud to present the Texas-based Western Swing group The Quebe Sisters on

Saturday April 14 at 7pm

in the Sheppard Auditorium in Pinedale.
The Quebe Sisters are rooted in traditional Texas music with a unique blend of triple fiddles and vocal harmonies backed by a rhythm section of topnotch guitar and upright bass.
"One thing is for sure, you don't see a group like the Quebe Sisters come along every day. Give them your undivided attention, and if you're not already, you too, will become a fan."

– Opry announcer Eddie Stubbs on Nashville's WSM
After more than a decade of travelling the U.S. and the world, and recording three acclaimed albums, Grace, Sophia and Hulda Quebe are pros in a variety of genres, and count many famous musicians among their biggest boosters.
Advertisement - Story continues below...
Along with headlining their own shows to ever-growing audiences, they've shared stages with American music legends like Willie Nelson, George Strait, Merle Haggard, Ricky Skaggs & Kentucky Thunder, Ray Price, Connie Smith, Marty Stuart, Larry Gatlin and the Gatlin Brothers, Ray Benson and Asleep at the Wheel, Riders in the Sky and many others.
Tickets for The Quebe Sisters live in Pinedale are available online at pinedalefinearts.com and locally at Pine Coffee Supply, The Cowboy Shop, Office Outlets, The Big Piney Library and at the door the night of the performance. Ticket prices are $20 adults / $7 students / $2 extra at the door.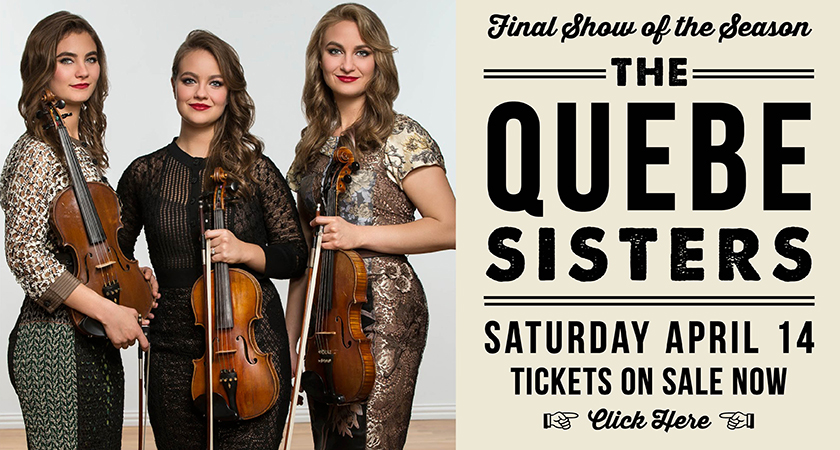 The Quebe Sisters live in Pinedale is presented by the Pinedale Fine Arts Council with support in part from the Wyoming Arts Council through funding from the Wyoming Legislature and the National Endowment for the Arts which believes a great nation deserves great art, Sublette BOCES #1, Western Sublette BOCES #9, the Sublette County Recreation Board, the Wyoming Community Foundation – Sublette, Tegelers & Associates, Ultra, Andeavor, The Western States Arts Federation (WESTAF) & The Rocky Mountain Power Foundation.
Learn more about The Quebe Sisters here.
For more information please visit www.pinedalefinearts.com or call 307.367.7322.
And be sure to find us on Facebook!
---
PINEDALE FINE ARTS CENTER
The Pinedale Fine Arts Council, a community based non-profit 501(c)3 corporation serving Sublette County (WY), has provided high-quality performing arts events, visual and literary arts programs and artist residencies since 1976. Largely through volunteer efforts and consistent community support, PFAC helps connect a dynamically growing corner of Wyoming to the rest of the world.
---
Paid Advertisement - This post was paid for by the business or individual represented above. We reserve the right to remove any comments. If you'd like to advertise your business in a future promotion similar to this, call our Advertising Team at 307-922-0700 or send us a message.