GREEN RIVER — Community members attended the Green River City Council meeting Tuesday night to express their support and concerns over a mask mandate in Green River.
Fred von Ahrens, Vice President of Manufacturing at Genesis Alkali, asked for the Green River City Council's help in city-wide mask use.
"We simply do not want to see global or regional shut downs again, and that is why I'm here. We need your help," he said.
Advertisement - Story continues below...
He said Genesis Alkali has over 800 people working in close quarters, and they wear masks and socially distance to keep safe. In addition, Genesis Alkali has staggered shifts, meal times, break times, and has put time and capacity limits on break rooms.
On top of normal attendance, von Ahrens said he has 3 to 4 percent of his employees out of work at a time due to COVID-19. Those employees are coming into contact with the virus outside of work. He said that they cannot just throw anyone into these positions to keep production going.
"It takes high skilled, highly-trained operators," he said.
Von Ahrens added that with winter months coming, and having a water-based facility, there can be freeze ups at the plants. They need enough staff to keep these plants from freezing.
"If we continue to see escalation of employees out of work, and we're concerned we can't staff crews, we will voluntarily shut down specific plants to keep from freezing the overall plant up, and to protect employees," von Ahrens said.
Another concern is that Genesis Alkali has over 100 employees who are over 60 years old, making them more vulnerable to the effects of COVID-19.
"I don't want to lose any of my employees to this horrible disease, and I'm sure you don't either."


– Fred von Ahrens
He again asked for the City Council's support in enforcing masks throughout the community to ensure not only industry workers can stay at work, but to ensure the community members are safe as well.
"We really our asking for your thoughts and your prayers, and your help in keeping our employees and our community members safe, and helping us from overrunning our hospitals, taking care of our wonderful healthcare employees, our teachers, and our students. We need your help. We truly need your help," he said.
Opposed to a Mask Mandate
Green River resident Jeanna Young expressed her concerns over mandating masks in Green River, as she believes it is a violation of medical freedom and constitutional rights.
She additionally expressed her displeasure in the news that broke Tuesday evening that the state approved Sweetwater County Public Health Officer Dr. Jean Stachon's request for a variance for a mask mandate.
"Transparency on this decision has been very weak. A lot of us have not known what is going on behind closed doors," Young said.
She said Dr. Stachon is following data that isn't true, and that she is not representing the community in her actions and decisions.
"I do believe we are on a very slippery slope, allowing one person or a small group of unelected people to coerce and not present true facts or data with sources, and be allowed to jump hoops to make such decisions… when it comes to our medical freedoms and our constitutional rights," Young said.
The Constitution of the State of Wyoming Article 1, Declaration of Rights, Section 38(a) does state that "Each competent adult shall have the right to make his or her own health care decisions…" However, in the case of masks it is a bit more complex. Masks are primarily worn for the protection of others, therefore complicating the issue of it being a health care decision for one's own health.
Young asked that Green River residents and the City Council stand up to mask mandates. However, City Attorney Galen West said that the decision is not up to the city, but is rather a state matter.
"The statutes are clear that the direction in this regard is invested in the state health director," West said.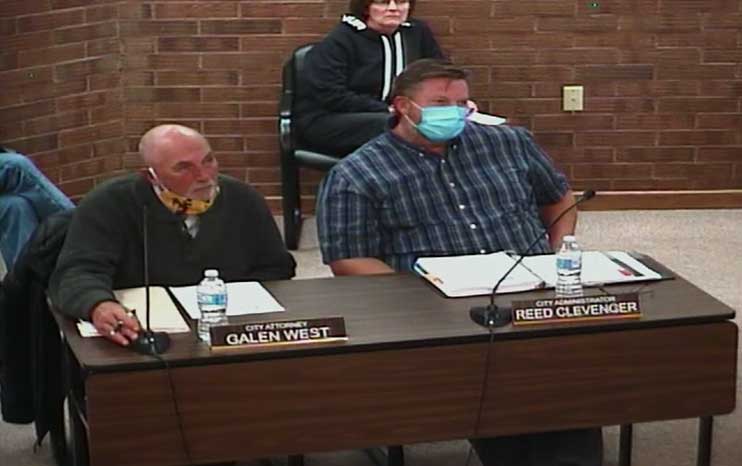 Voluntary vs. Mandated
Green River City Council members Lisa Maes, Mike Shutran, and Jim Zimmerman all expressed their desire for masks to be a personal decision rather than mandated.
"You're going to have an enforcement issue that's going to become so unbearable, I don't even think we know the extent," Shutran said.
Zimmerman said it should be voluntary and that he is also worried about enforcement. He said he believes people who are fined or arrested will demand a jury trial to voice their rights, and this will burden the court system.
"I really believe our constituents as a whole don't want this," Zimmerman said.
Maes said she is unable to wear a mask for over 40 minutes without having an anxiety attack.
"I have to just rip it off and breathe," she said.
However, von Ahrens pointed out that voluntary mask use only works if people do indeed volunteer to wear them.
"Volunteering is fine, as the Governor said, as long as we do it. And the Governor is getting very frustrated for those of us who have heard him talk," he said. "It's going to take the courage of the leaders in the community to do some very tough things."
Councilmen Gary Killpack and Robert Berg both said they understand the argument that enforcement will be difficult, but spoke in favor of mask use.
"An ounce of prevention is worth a pound of cure," Berg said.
He said he has worn a mask at work for 10 hours a day for five days a week for the last eight months, "and it hasn't killed me yet."
Killpack asked the question why it is so difficult to wear a mask when asked to.
"The argument I have is, what's wrong with being a good citizen?"


– GR Councilman Gary Killpack
"Our kids are probably safer in schools than they are other places because they have to wear a mask, and they do wear a mask," he added.