LITTLE MOUNTAIN — In what has become of the epitome of conservation in the 21st Century, collaboration was in full swing this past Tuesday as volunteers from the Muley Fanatic Foundation, Wyoming Game and Fish Department, Bureau of Land Management, Bowhunters of Wyoming, R&M Welding and inmates from the Sweetwater County Sheriff's Department Community Service program gathered on Little Mountain to construct nearly ten acres of specially designed steel jack fence to promote vertical growth of aspen trees for improved habitat for mule deer.
Over browsing of aspen suckers by elk and cattle at many locations throughout the Little Mountain ecosystem has impeded vertical growth, with some sites exhibiting browsing severe enough to cause retrogression and ultimately reducing the amount of aspen habitat present on the Little Mountain landscape.
In what is one of the most ecologically diverse wildlife habitats found in Southwest Wyoming, mule deer, elk, and cattle tend to concentrate on the top of Little Mountain during the summer months to give birth and rear their fawns and calves. Because of the physiological demands during lactation, doe deer and cow elk rely heavily on the nutritious forage in the understories of aspen on Little Mountain to successfully rear their young. Temporarily excluding elk and cattle from these targeted aspen stands will not only prove to be beneficial for deer that have declined nearly 40 percent in the last decade but also present a much-needed opportunity for the aspens to grow above browse level.
Advertisement - Story continues below...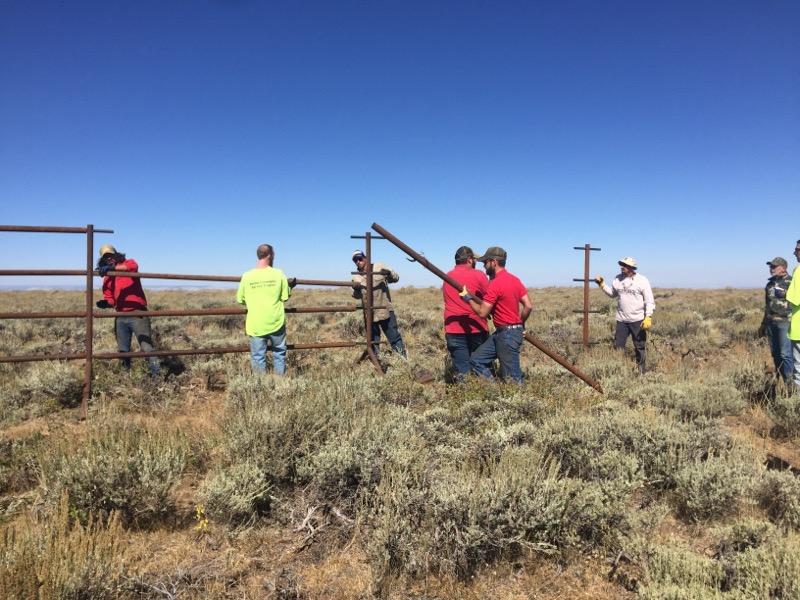 "This project has shown measurable success since its inception in 2015 and to be able to add these ten acres to this effort is a testament to the validity of the overall project objective," said Joshua Coursey, Muley Fanatic Foundation President/CEO. "One doesn't have to look far to see the connections between a healthy landscape and a sustainable wildlife population. The rapid loss of aspen stands and the parallel decline of deer in this area is just one more part of the puzzle we are aiming to solve in why we continue to see deer numbers plummet."
Ninety-two thousand pounds of fencing material (2 3/8" pipe) was used in this latest fencing exclosure that sits directly on top of Little Mountain and the efforts of many aided greatly in completing the project. Coursey noted, "Our project season window is getting thin. You get into September and October and the availability of help becomes even thinner. We are extremely grateful for the partners that helped to get this done. While MFF, Game and Fish and BLM have a vested interest in this effort, the participation and support from the crew at R&M Welding as well as Sheriff Mike Lowell lending us some manpower through the Community Inmate Program proved very valuable and a great opportunity for others to get involved and learn about the goals of the project."
Once monitoring shows young aspen trees have grown to an average height where they are no longer susceptible to browsing and are capable of maintaining a healthy stand, the fencing will be dismantled and moved to another identified aspen stand nearby in need of protection.
For future volunteer field opportunities and more information on this project please go to muleyfanatic.org or call the Muley Fanatic Foundation at 307-875-3133.