ROCK SPRINGS– The Rock Springs High School wrestling team finished in second place at the Thoman Wrestling Tournament this weekend, January 5 and 6.
Uintah took first place, Green River placed third, and Worland finished fourth.
---
The Tigers won 7 out of 8 duals over the weekend. They started out the tournament with a win over Jackson Hole 72-0. They then beat Kemmerer 48-15. The Tigers won over the Evanston 2 team 62-16.
Advertisement - Story continues below...
RSHS received their only loss of the tournament against Uintah 46-17. They then went on to beat Lyman 57-21, and the Green River 2 team 65-12.

---
Rock Springs High School
sports coverage is brought to you by these amazing sponsors:
---
The Tigers made the Gold Bracket for the finals in which they beat Green River 40-33, and Worland 49-24.
---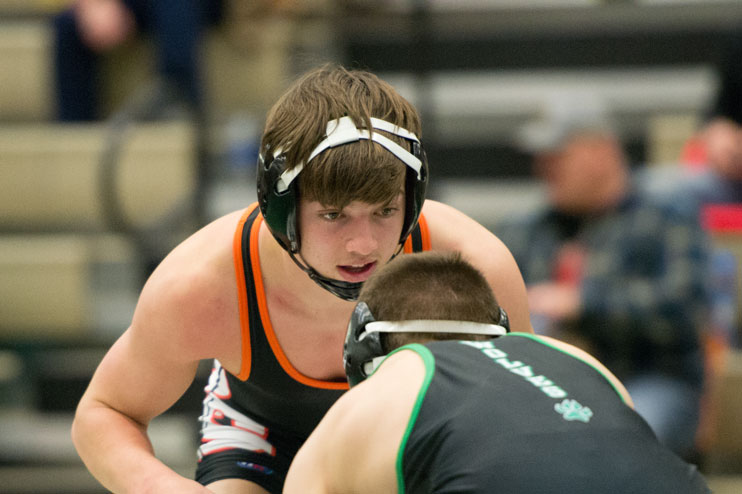 Final Dual Results

Rock Springs vs. Green River
152 – Tristan Profaizer (Rock Springs) over Brett McKeehan (Green River) TF 15-0
160 – Wyatt Yenney (Rock Springs) over Jon Ty Leininger (Green River) Fall 2:21
170 – Kaden Lloyd (Green River) over William Petrovich (Rock Springs) Fall 1:58
182 – Payton Tucker (Green River) over Dalton Black (Rock Springs) Fall 2:32
195 – Adam Forbush (Rock Springs) over James McCarter (Green River) Dec 7-1
220 – Russell Ferrell (Green River) over Gavin Mikesell (Rock Springs) Fall 0:36
285 – AJ Kelly (Rock Springs) over John Makie (Green River) Fall 4:45
106 – Dominic Martinez (Green River) over RJ Davidson (Rock Springs) Fall 2:53
113 – Zacherie Vasquez (Rock Springs) over Kade Flores (Green River) Fall 4:25
120 – Kade Knezovich (Green River) over Mason Yenney (Rock Springs) Dec 4-2
126 – Ashton Dupape (Rock Springs) over Gabe Patton (Green River) Fall 3:42
132 – Cameron Metcalf (Rock Springs) over Justin Flores (Green River) Maj 11-1
138 – RJ Stassinos (Rock Springs) over Jacob Weipert (Green River) Maj 11-1
145 – Nathan McCann (Green River) over Wyatt Fletcher (Rock Springs) Fall 4:33
---

Rock Springs vs. Worland
160 – Wyatt Yenney (Rock Springs) over Lane McBee (Worland) Fall 0:31
170 – JR Hofmann (Worland) over William Petrovich (Rock Springs) Dec 8-4
182 – Isaac Goncalves (Worland) over Dalton Black (Rock Springs) Fall 3:36
195 – Alex Beck (Worland) over Adam Forbush (Rock Springs) Dec 5-2
220 – Cam Cabarett (Worland) over Gavin Mikesell (Rock Springs) Fall 1:21
285 – Morgan Tigner (Worland) over AJ Kelly (Rock Springs) Fall 4:59
106 – RJ Davidson (Rock Springs) over Kein Anderson (Worland) Fall 2:59
113 – Zacherie Vasquez (Rock Springs) over Dominic Hartley (Worland) Fall 1:03
120 – Mason Yenney (Rock Springs) over Adam Bankert (Worland) Maj 8-0
126 – Ashton Dupape (Rock Springs) over Daniel Weyrich (Worland) Dec 7-0
132 – Cameron Metcalf (Rock Springs) over Tristen Lungren (Worland) Fall 1:10
138 – RJ Stassinos (Rock Springs) over Hayden Johnston (Worland) Fall 0:39
145 – Wyatt Fletcher (Rock Springs) over Unknown (Unattached) Forf
152 – Tristan Profaizer (Rock Springs) over Unknown (Unattached) Forf
---
RSHS Individual Records
106- RJ Davidson of Rock Springs went 3-2
113- Zacherie Vasquez of Rock Springs went 9-0
120- Mason Yenney of Rock Springs went 5-3
126- Ashton Dupape of Rock Springs went 7-1
132- Cameron Metcalf of Rock Springs went 8-1
138- RJ Stassinos of Rock Springs went 6-2
145- Wyatt Martinez of Rock Springs went 4-1
152- Tristan Profaizer of Rock Springs went 7-1
160- Wyatt Yenney of Rock Springs went 9-0
170- William Petrovich of Rock Springs went 1-2
182- Dalton Black of Rock Springs went 6-2
195- Adam Forbush of Rock Springs went 6-2
220- Russell Ferrell of Green River went 7-1
285- AJ Kelly of Rock Springs went 6-2
---