Our favorite snapshots from 2018
It's been a fun and busy year. Thanks for letting us join you, Sweetwater County. We look forward to capturing you throughout the new year.
---
Lending a Helping Hand
A young volunteer flashes a smile as she carries a bucket of meals during Western Wyoming Beverages Packing Out Hunger event, in which the community packed 50,872 meals for local food banks. (Dec. 8, 2018)
Advertisement - Story continues below...
---
Pre-show Bathing
This big guy enjoyed his bath during his pre-show grooming before the Gala of the Royal Horses show at the Sweetwater Events Complex. (June 28, 2018)
---
Homecoming Fun
This little Tigers fan had a cute meeting with the Rock Springs High School Tigers mascot during the Homecoming football game against Kelly Walsh. (Sep. 14, 2018)
---
The Ranch Life
Rex Wardell, one of the ranch kids on the Thoman Ranch, prepares to vaccinate a calf. (April 6, 2018)
---
Playing Around in the Mud
Participants of the Superior Mud Bod races have a blast while getting splashed with mud. (June 24, 2017)
---
A Day at the Duck Races
The ducks are released at the 17th Annual River Festival duck races. (Aug. 18, 2018)
---
Exploring Seedskadee
A fifth grader at Monroe Intermediate School in Green River looks through high-powered binoculars and spotting scopes to see the birds and wildlife at Seedskadee during a field trip. (May 16, 2018)
---
A Splash of Color
The Southwest Counseling Service hosted the Recovery Color Run & Walk to celebrate Recovery Month. (Sep. 17, 2018)
---
Making a Friend
A young girl enjoys her meeting with a friendly goat at the petting zoo at Wyoming's Big Show. (Aug. 2, 2018)
---
Touring the Greater Little Mountain Area
A Wyoming Game and Fish warden talks about the Greater Little Mountain Area as a group of people look over the Red Creek Overlook during the Greater Little Mountain Coalition's ground tour. (June 20, 2018)
---
A Young Angler
A young girl poses with her fishing pole at the 2018 Burbot Classic in which anglers catch Burbot, an invasive fish species in the Flaming Gorge. (Feb. 3, 2018)
---
Eagle Spirit Dancer
An Eagle Spirit Dancer from the Museum of the American West-Lander, Wyoming performs at Rock Springs International Day. (July 14, 2018)
---
Mexican Culture Through Dance

A dancer with the Ballet Folklorico Quetzalcoatl de Utah performs at Rock Springs International Day. (July 14, 2018)
---
Enjoying the Ride
A bull rider hangs on tight at the Overland Stage Stampede Rodeo in Green River. (June 21, 2018)
---
For the Thrill of It
Sweetwater County Fair attendees enjoy riding one of the amusement rides at Wyoming's Big Show. (Aug. 4, 2018)
---
A Day in the Life
A young attendee of the Rock Springs Police Department Open House learns from an RSPD officer how a taser works. (Maya 17, 2017)
---
Feeling the Music
Green River native, Shandryn Trumble performs at the Muley Fanatics Foundation's first ever Mansface Music Festival. (July 17, 2018)
---
Floating the Green

A couple of young girls float down the Green River at the 17th Annual River Festival in Green River. (Aug. 18, 2018)
---
Going for the Pin
Green River High School wrestler, Payton Tucker, prepares to take down his opponent at the Thoman Wrestling Tournament. (Jan. 7, 2018)
---
Welcome to the Wild, Wild West
The Hole in the Wall Gang cools the crowd down with squirt guns during the Flaming Gorge Day Parade. (June 23, 2018)
---
Santa Claus is Coming to Town

Santa hugs a trio of excited kids at the Rock Springs Historical Museum. (Dec. 15, 2018)
---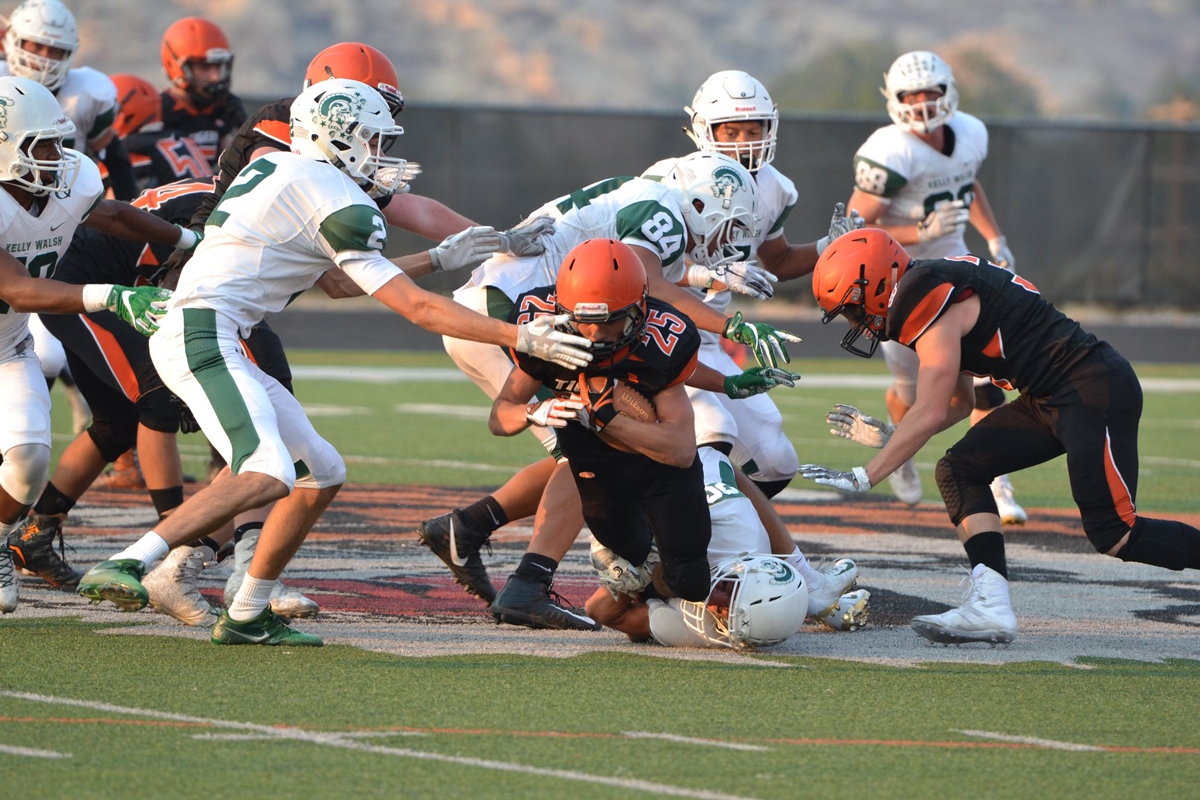 A Tigers Victory
Rock Springs High School running back, Landon Toth, runs through the Kelly Walsh Trojans during the Tigers' Homecoming game, in which they won, 14-7. (Sep. 14, 2018)
---
Miming Through the Parade
A young pantomime with Studio 307 Dance Center looks back at the camera during the Red Desert Roundup Parade. (July 28, 2018)
---
Budweiser Pup
A Budweiser Dalmatian puppy stands on top of the Budweiser crates as the Clydesdales strolled through downtown Green River, delivering beer to the local bars. (Aug. 3, 2018)